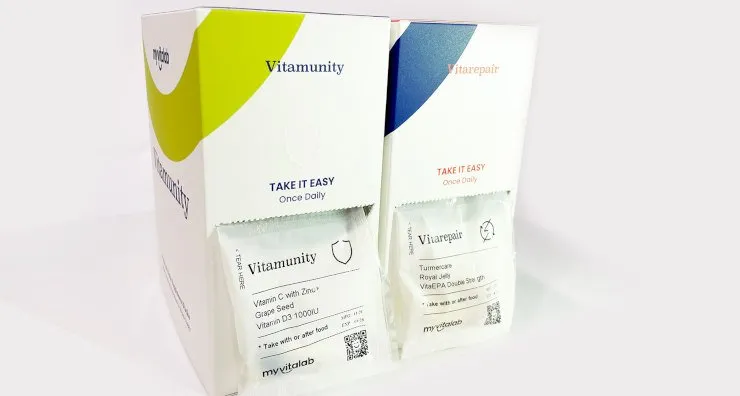 Incorporating technology into the supplement packaging system, MyVitalab recently launched two types of wellness packs namely Vitamunity and Vitarepair to accommodate two different health categories. A new player in the thriving Halal wellness industry, MyVitalab's main motivation to launch the products to the market is to facilitate the act of consuming vital supplements by simplifying the process and solving common problems with daily supplement consumption.
According to MyVitalab's Founder and Chief Executive Officer, Nabiha Aimi, "In a modern world where there are many barriers to a healthy lifestyle behavior, an advanced and innovative way of consuming nutritional supplements can help fill the gaps. One of the most important aspects of achieving vibrant health is maintaining consistent, optimal levels of nutrients in your body. But when you're on the go, good lifestyle habits are often the first thing to suffer.
MyVitalab with its conveniently pre-packed premium daily supplements makes it easy for the public to get the right nutrition their body needs to flourish. Each box contains a 30-day supply of supplement packets or sachets. We have carefully curated all of the supplements for you in these pre-pack boxes, so you don't have to do any more guessing games on which supplement would be best to be paired with which. Consumers can just conveniently tear these packets and consume the supplements daily at any time, but it is always best to be consistent".
The idea was developed in early 2020, when the sourcing, research, and product development stage took place. After rigorous research, Nabiha and her team came up with a plan to introduce four types of wellness packs – each targeted to its specific health objectives.
However, due to the current situation, MyVitalab resolves to launch Vitamunity and Vitarepair ahead of the other two products solely because a functioning immune system and muscle recovery are both most crucial in the fight against the COVID-19 pandemic, and to welcome the end of the lockdown when people are back to being active. "Wearing masks, keeping your distance, washing your hands regularly – those are rules currently applied around the globe and considered to be 'the new normal. But there is something else that is more important than ever and should gain a prominent place in a dialogue concerning one's daily health recommendations – a functioning immune system. It is our mission at MyVitalab to ensure that daily consumption of essential supplements by Malaysians becomes part of the new normal, thus making it easier and more accessible to everyone. Plus the supplements are Halal certified which adds to the appeal to our Muslim consumers," adds Nabiha.
For example, MyVitalab's 30-day supply of supplements in Vitamunity contains an expertly formulated combination of core supplements, which include Vitamin C with Zinc+, Grape Seed, and D3 1000IU. Koay Suat Ling, Head Nutritionist says, "The supplements are made with the highest quality of ingredients with bioavailable nutrients.
The R&D is a long process that includes time spent in the selection of supplements to be packed. Vitamin C and D and other micronutrients such as zinc, iron, and selenium are much more than just 'nice to have. Vitamin C with Zinc+ is an essential supplement for maintaining a healthy immune function by preventing and shortening infections and supporting the function of white blood cells. While Grape Seed is often overlooked, is a potent source of antioxidants that alleviate the oxidative stress, inflammation, and tissue damage that can occur alongside chronic diseases. It is also a great source for healthier skin. As for D3 1000IU, clinical studies show that Vitamin D supplements may help improve the quality of bone as well as promote bone reabsorption. Vitamin D enhances and supports the immune system's response to both bacterial and viral agents via differentiation and immune response activity".
She further explains, "The technology and innovation refer mainly to its automated and simplified process. Rather than sorting out the supplements manually from separate bottles, we let the MVL machine do the sorting and sealing of the packets. All the team has to do is ensure the canisters are fully stocked and check if the right supplements have been put into the packets. Additionally, it is important to note that the material used to pack the supplements are FDA approved to store pills".
Nabiha is confident that MyVitalab's introductory products will be received well by the Malaysian public. "There are several plans already in the pipeline both for the local market and regional. Other than the release of the remaining two wellness packs by the first quarter of 2022, we are also working towards a more personalized service of pre-packing supplements and supplements that are curated based on the exact needs of each consumer. By leveraging on technology, we are also going to roll out a reminder system, which will proactively anticipate when you will run out and the time to replenish. At MyVitalab, we want to show that consuming supplements does not need to be complicated, we keep it simple and easy for our consumers. Further, we also want to make sure that the products we offer are of high quality with the most economical price", quips Nabiha.
All of the MyVitalab supplements are MAL certified under the Health Ministry of Malaysia and also Halal certified.