Halal Food has more companies than any other sector of the Islamic economy. More and more products are on offer as ingredients are increasingly halal certified, and company portfolios diversify to cater to increasingly sophisticated taste buds, from burgeoning demand for halal-certified mozzarella, to growing demand for organic food. Multinationals have noted the opportunity, with Haribo opening a halal candy store in London, and Japan's Mitsubishi Corporation investing in the UAE's Al Islami Foods. Mergers and acquisitions activity continues, although a number of major investments are still needed to take the sector to the next level — a global halal food brand. Regulatory oversight of halal food production is steadily improving, with the UAE and Malaysia taking the lead. With Muslim spend on food and beverages growing at 6.1 per cent and forecast to reach US$1.9 trillion by 2023, there are significant opportunities for investment and the creation of global halal food brands.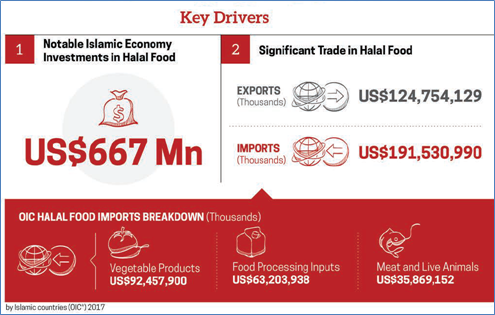 Choice of Halal foods which is also quality and healthy is one of the greatest lifestyle offerings by halal industry for the Muslims as well as non-Muslim consumers. The demand of halal foods is increasing as the consumers are becoming aware of the halal integrity in terms of halal certification, halal standards, and halal raw materials. The food and beverage (F&B) sector are also the biggest sector in the industry occupying about 56% of the global Muslim spend across lifestyle sectors. Total Muslim spend in F&B was $1.24 Trillion in 2016 which is projected to reach $1.94 Trillion by 2022 with a growth rate of 6.2 percent from previous year. There are significant opportunities for investment and creation of global halal foods as the sector is growing at nearly double that of global growth (Latif, 2017). The demand of food is expected to increase by more than 70% by 2050 which indicates a strong demand of halal food in future.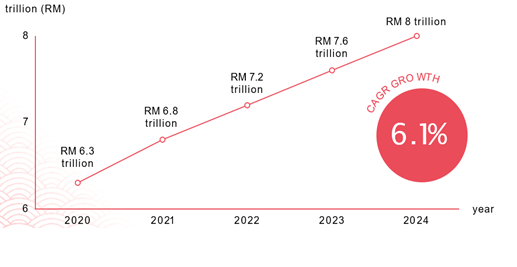 Halal food sector has shown a significant achievement and Muslim spend continues to increase with a 6 percent growth from 2015. The potential opportunity in halal food and beverage sector is addressed by even non OIC countries. Halal food companies could be multi-billion dollar, publicly listed enterprises through trade finance, working capital and capital expansion. Halal food companies can also become halal lifestyle conglomerates through developing product categories and lines, and emerging dedicated halal free zones. Notable investment by different firms worldwide like Nestle, Janan Halal Meat, Kingsley etc. implies that Halal is becoming an area of focus for private equity firms. It is the non-Muslim countries that produce a major part of the halal foods globally.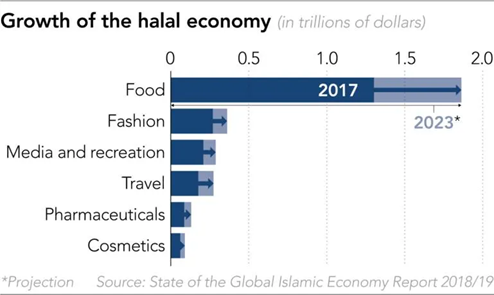 The Thomson Reuters report on the "State of the Global Islamic Economy" highlights Malaysia's clout, but its sector-by-sector breakdown also shows just how international the halal economy has become.
Halal food is also becoming popular because it is perceived as being trustworthy, notably in China. Despite China having a tiny Muslim population, the bulk of production is for domestic production. The country is, however, gearing up to be a major halal food exporter. In the provinces of Xinjiang, Gansu, Xian and Lanzhou alone, there are some 5,000 halal food companies.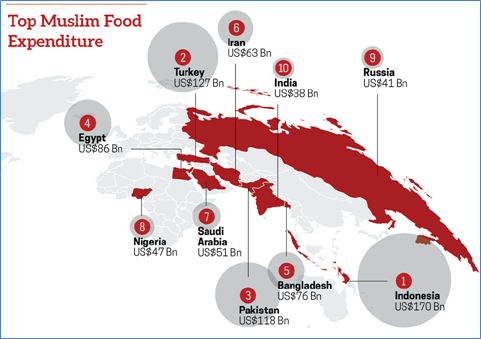 Yet while there have been mergers, acquisitions and IPOs in the segment, halal food still remains an unrealised opportunity. Muslim spend on food and beverage was valued at US$1.3 trillion in 2017, and forecast to reach US$1.9 trillion by 2023.